Make that special day an unforgettable event for you, your partner and all your guests with the service Riken has prepared for you.
Your guests will have a great time; they'll be surprised, delighted, and laugh a lot!
We know your wedding is unique, therefore we have 3 different options so you can choose the one that fits your event.
---

Option 1
Stand-up Show
✓ Duration: 20 min.
✓ Professional mic. and audio so no one misses a detail of the show
✓ Magic suitable for audiences from 10 to 300 people
✓ Comedy that will make even the most serious of your guests laugh
✓ Surprising magic that will amaze your guests
---
Option 2
Stroll Magic
With this option Riken performs magic to small groups of 4 or 5 people around the party and performs miracles centimeters from their eyes.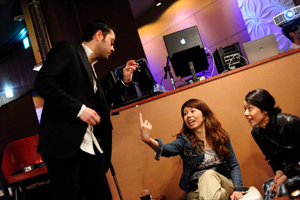 ✓ Duration 60 min
✓ Outstanding magic effects that will amaze your guests
✓ Magical souvenirs for some of the guests like mind-bent forks, signed cards and many others
---

Option 3
A great combination for the best events
✓ Duration 80 min.
✓ 20 min. of stage magic (Option 1)
✓ 60 min of stroll magic (Option 2)
---
Watch more videos.
---
Tokyo, Japan
080-4449-2826
Even though these prices are usually applicable to most events, they may vary depending on the event, amount of people and location.